#25. Martha Washington is the only woman whose portrait has appeared on a U.S. currency note.


How to Become a Millionaire
Make millions simply by investing and saving.
Do you want to be a millionaire? Don't have a big new idea to start the next social network? No worries, you can become a millionaire by saving a few bucks a day—about the price of a cup of coffee. And you have a few advantages on your side (mostly time). Here's how to do it.
Interest rates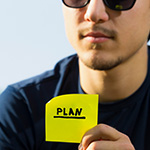 Gaming the interest rates is a big part of how the plan works. Starting out, with a $5 deposit you'll most likely be using a normal savings account. The interest rates of those accounts range between .05% to 3% on the high end. On the low end, at .05% with an average investment of $5 per day, you'll save about $1,800 a year with interest.
Stack your money
The trick is to move your money around into higher rate savings accounts, like certificates of deposit or share certificates. You can stack these as they mature, reinvesting the interest from one into a new one, allowing for faster growth as time goes on.
Grow up
As you grow and you earn more money throughout your life, grow what you're saving. In high school and college, $25–$30 a week isn't that difficult of an amount to earn. But as you grow, you should be able to save more each day. Increasing your daily investment to $30 a day will leave you with $10,830 extra in your savings account each year.
Stock up
Moving your money from savings accounts to stock and bond investments will earn you money even faster. If you haven't figured it out yet, the trick to all of this is leaving your investments alone. The stock market has an average return of 7%. You'll never find a saving account with that good of an investment.
Stay focused
There are infinite ways you could work the system to get to that million-dollar mark. It is going to take a lot of work and focus, tracking where you have money and when you need to move it. As time goes on, you'll need to continually reevaluate where you have your money.
The tools
Using a good interest calculator is going to help you really understand how your money is working for you. As you get more advanced, it might be good to build a spreadsheet that is customized to the accounts and investments. Using your credit union app can really help simplify the process of moving money to where you need it. And as you start to transition out of savings accounts and into investment vehicles, stock management apps can help you put your money in the right place and help you save a lot on fees.
Where to start
The best place to ask questions of where to start your investment is to talk to your credit union. They'll be able to help you get your first account opened and, as time passes, open up the additional accounts you'll need. As your savings grow, you can start to transition them into stocks and bonds with the help of an investment advisor.